VETERINARIANS
Dr. Kristen Schlenker,  Dr. Lynn Kolterman, Dr. Nixon, and Dr. Arthur are proud to welcome clients old and new to Clock Tower Animal Clinic. Clock Tower Animal Clinic has been a cornerstone of Lincoln area veterinary care since 1972.
After working alongside Clock Tower Animal's founder, we have been fortunate enough to continue to lead Clock Tower Animal Clinic into the future. We are committed to constant improvement, growth, and service to the community for years to come.
---
TECHNICIANS
Our technicians are well-trained and highly involved with the care of your pets. From assisting the doctor in the exam room and surgery to post-operative monitoring and treatment administration, they take the time to make sure your pet comes home with you healthy and happy.
Each technician brings valuable skills, personality, and years of experience to our clinic. We are beyond fortunate to have them on our team!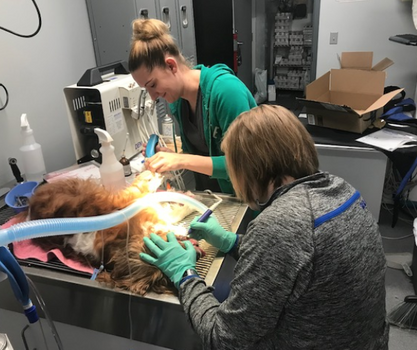 ---
Support Staff
The support staff at Clock Tower keep the clinic running smoothly.   From scheduling to communications to medical assistance, we couldn't do it without them!